The beginnings and growth of our company
In 1985 Bruno Fedeli founded the Azienda Agricola Monte Castello in Serravalle di Chienti. Together with his wife Sabina, he has been taking care of and producing pulses and cereals for over 30 years, in line with the great agricultural and food tradition that his father Zeno has passed on to him since he was a child.
In 2022, the two daughters, who are determined to carry on their parents' hard work, joined the family business.
The company has grown year after year, striving to guarantee its consumers cultivations on Italian soil, ensuring the safety and healthiness of the final products.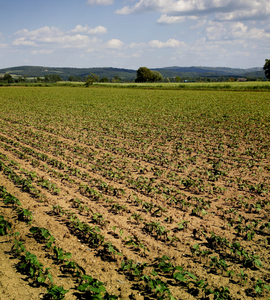 Our land and our production
The agricultural land chosen by owner Bruno is located in the regions of Marche, Umbria, Tuscany, Apulia, Campania and Piedmont.
Agricultural production is obtained in strict compliance with the production specifications for the different types of goods: integrated production and organic production, both of which are essential to combine the need to safeguard environmental resources, together with that of improving the technical-economic conditions of agri-food products and defending human health.
But that's not all, the dedication of the Monte Castello farm continues in the strict control that is put in place during the harvest, in the monitoring of the organoleptic and nutritional characteristics of agricultural products, and in the rigorous technological processes of processing and packaging.
Our philosophy
The company's philosophy focuses on pursuing and creating the "short supply chain" that goes from production to processing and packaging, guaranteeing the consumer a safe and controlled product.
Sound principles and solid values are for us the foundations that have enabled the progressive construction of our work. Owner Bruno cherishes the transmission of these principles to his daughters, so that with the passing of time the philosophy on which the entire farm is based will not be lost.