Where can you find our pulses?

You can find our pulses and cereals in the best Italian supermarkets, such as: Coop supermarket, Conad, SìconTe, Tigre & Oasi, Tosano Supermarkets, Iper La Grande I and I.D.A.L. .

We also supply our products to various other Italian and foreign industrial concerns, and we have made it possible to purchase directly online on this new website.

The best organic Italian legumes online: lentils, beans, chickpeas and much more!
Our passion for organic products drives us to select only the best legumes for our product collection. Every step of the production of our legumes, from sowing to harvesting, is carried out with the utmost attention and care, to ensure that our customers receive only high quality products. Furthermore, to ensure maximum freshness, our legumes are stored in an appropriate way until they are delivered, so that they can maintain their perfect flavor and texture.
Plus, our wide range of organic legumes lets you choose from a wide variety of options, including red lentils, Italian chickpeas, borlotti beans, cannellini beans, and many more. You will be able to find the perfect legume for your favorite recipes or to discover new flavors and dishes.
But not only do we offer high quality legumes, we also care about the health of our customers and the environment. For this reason, all our legumes are grown naturally, without the use of pesticides or chemicals. In this way, we can ensure that our products are healthy and environmentally friendly.
Choosing our organic legumes means making an informed, healthy and ethical choice. Not only will you have access to the best Italian legumes online, but you will also help promote sustainable production and support local farmers who are committed to growing naturally and responsibly.
Free shipping for orders starting from €150
Our customers' opinion

If you are looking for high-quality Italian pulses, we recommend taking a look at the reviews made by our satisfied customers. By reading our customers' opinions, you can get a clear idea of the quality of our products and the service we offer.

Our customer reviews are available on the abillion platform. You can read the comments of those who have already tried our pulses and share their experience.

This way you can make an informed choice and buy our products with confidence. We therefore invite you to read the reviews of our customers and join our community of fans of high-quality Italian legumes.

Enjoy reading the reviews!

Buy tasty lentil soups, spelled soups and much more online
Buy tasty lentil and cannellini bean soups online
Our tasty soups are the perfect choice for a light yet satisfying dinner.
We have selected only the best ingredients, including Italian chickpeas, organic red lentils and other high quality legumes, to offer our customers a tasty and healthy product.
There's no need to go to the supermarket to search for the high-quality beans when you can order them from the comfort of your computer or smartphone.
Thanks to our online purchase method, you can receive our soups directly to your home, ready to be heated and enjoyed in just a few minutes. Order now and discover the pleasure of a delicious and healthy dinner, from the comfort of your home!
Free shipping for orders starting from €150
Our Red Lentil preserve awarded by Gambero Rosso
Lentils with tomato sauce are one of the most popular specialties of Italian cuisine and our lentils are grown with care and carefully selected to guarantee you the highest quality. The recipe we propose uses only genuine and natural ingredients, such as onion, extra virgin olive oil, pepper and bay leaves, to bring out the authentic flavor of the lentils and tomatoes to the maximum.
Thanks to these and other factors, we have received the award from Gambero Rosso as recognition for having produced the best red lentil preserve.
Furthermore, thanks to our online sale, you can easily order our tomato lentils and receive them directly at home, in order to taste the typical dish of the Italian tradition in comfort.
Preserves of Organic Lentils with Tomatoes
Regular price
Sale price
€1,99 EUR
Unit price
per
Sale
Sold out
Share
View full details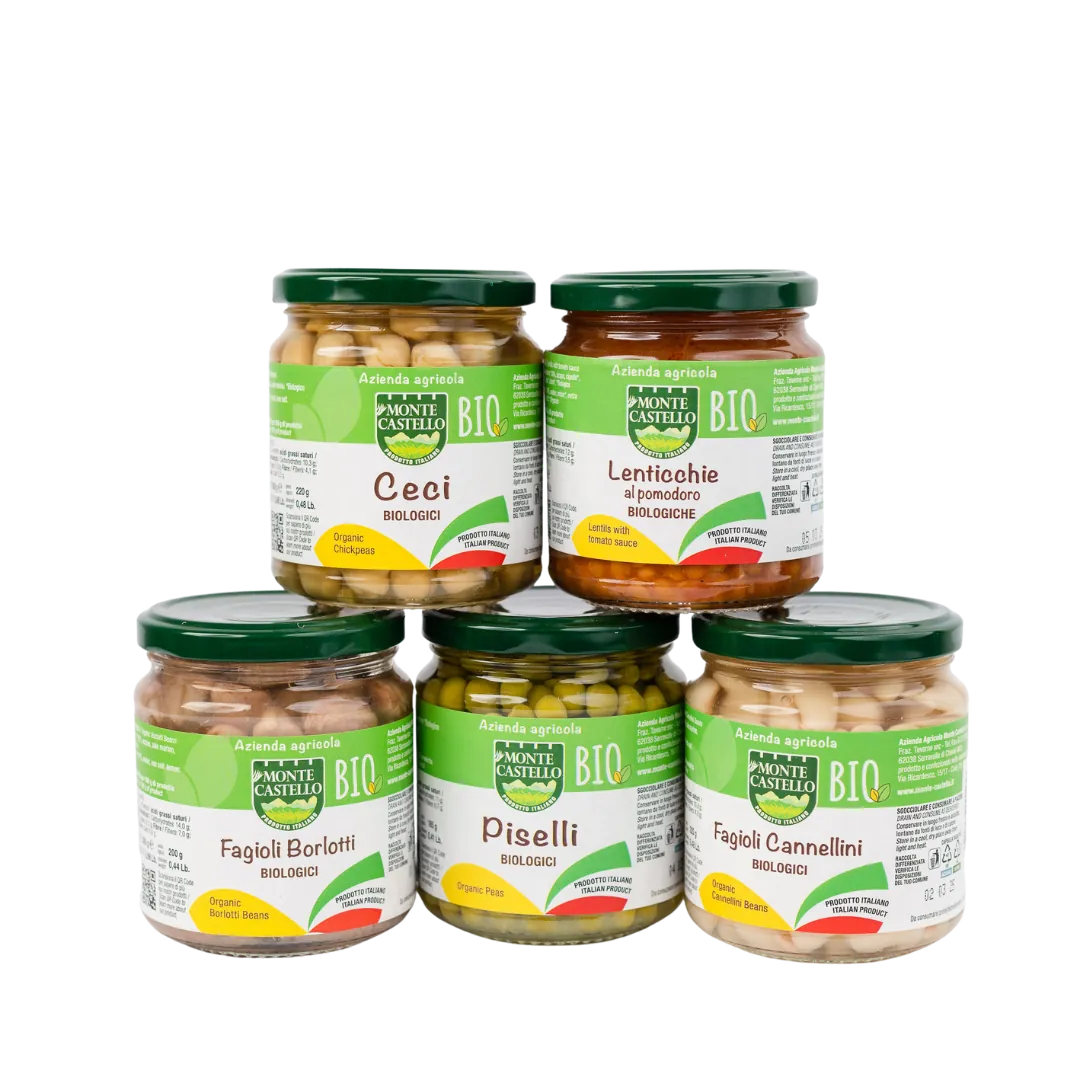 Free shipping for orders starting from €150
Check out our collections
If you are looking for high quality Italian legumes, you are in the right place. Our organic legumes are grown by Italian farmers using traditional and environmentally friendly methods. In this way, we can guarantee you that our products are 100% genuine and authentic. And if you want to add an Italian touch to your cuisine, try our Italian red lentils, carefully grown and carefully selected by our experts.
Add some Italian legume recipes to your diet, discover them all
Recipes based on organic Italian legumes are a real treat for the palate and an excellent choice for a healthy, balanced diet. Thanks to their versatility, legumes can be used in many different recipes, from soup to pasta, from salads to main dishes.
Moreover, thanks to their easy storage and longevity, organic Italian legumes can be easily purchased and stored for a long time, making it easier to include these ingredients in our daily eating habits.
Our Story
In 1985, Bruno Fedeli founded the Monte Castello farm in Serravalle di chienti, in the heart of the province of Macerata, and together with his wife Sabina, he has been taking care of and producing legumes and cereals for over 30 years, in keeping with the great agri-food tradition that his father Zeno passed on to him as a child.

In 2022, his two daughters, determined to carry on the work carried out with great commitment by their parents, fully joined the family business.

The company has grown year after year, striving to guarantee its consumers crops on Italian soil, ensuring the safety and wholesomeness of the final products.

The farmland chosen by owner Bruno is located in the Marche, Umbria, Tuscany, Apulia, Campania and Piedmont, and agricultural production is obtained in strict compliance with the reference production specifications for the different types of products: integrated production and organic production, both of which are fundamental in order to combine the need to safeguard environmental resources with the need to improve the technical-economic conditions of agri-food products and defend human health.

But that's not all, the dedication of the Monte Castello farm persists in the rigorous control that is put in place during harvesting, in the verification of the organoleptic and nutritional characteristics of agricultural products and in the rigorous technological processing and packaging procedures.

The company's philosophy focuses on the decisive value of pursuing and realising the 'short supply chain' from production to processing and packaging, guaranteeing the consumer a safe and controlled product.
Our commitment to sustainability and development
For years now, the Monte Castello company has been working with full and strict respect for the environment and biodiversity. Precisely because our raw materials are the fruits that the earth gives us, we are grateful to it and consider it fundamental to care for and respect it every day, even with simple daily gestures.

The attention we pay is not only limited to the environment and nature around us, but is also expressed in a proactive attitude in the social development of the community.
Contattaci per richiedere meggiori informazioni